Bi-Annual Exchange Visits
We hold regular exchange visits with our twin town in Germany in an alternating pattern of group visits to Germany and of receiving our German counterparts in Harpenden. Visits normally take place during the summer months and last from Thursday to Monday. Each visit will consist of a programme of events put together by the local town twinning group for their guests.
If you are interested in taking part in one of these exchange visits to Germany or would consider hosting someone from Alzey please contact us.
Friends of Alzey host a visit from German Twin Town July 2022
We enjoyed a successful visit of our Freunde von Harpenden who journeyed from Harpenden's twin town. Following is the introduction of a report from our Chair, Susan.
Great joy as visits are back!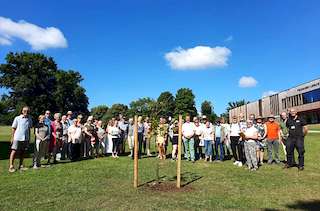 Thursday July 7th was a momentous day for the Friends of Alzey; we were able to welcome 17 visitors who, undaunted by travel chaos and covid fears, made it over to Harpenden for the vital resumption of face to face visits between residents of our towns. We last saw each other in person in September 2019, so the Welcome Garden Party with Pimms and bunting felt magical; it heralded three days of smiles, laughter and chatter, local activities, relaxation together and plenty of eating and drinking, all bathed in glorious sunshine.......
Click here for a copy of the full report. See the Photos page for more pictures.
For German readers, Beate Lehn and Gabriele Müller-Gebhardt representing Freunde von Harpenden, wrote an article about the visit. Published on the Alzey Town Council website, click here to see their article.
Friends of Alzey visit from German Twin Town, 2021 - postponed
A bittersweet start to 2021. Just a couple of days after we received news from the Friends of Harpenden in Alzey that regrettably they cannot see a way to visit us in 2021, several of their members joined our monthly Saturday morning zoom call to spend a lively hour with former guests/hosts. For much of the hour we were able to put more sombre thoughts of the pandemic to one side,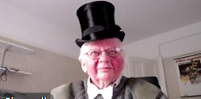 and shared ways of finding amusement in these difficult times. A long-standing member even donned a top hat and bow tie when the conversation turned to zoom dressing up challenges! Friends of Harpenden and Alzey wished each other well, and look forward to our call next month.
Friends of Alzey visit from German Twin Town, 2020 - postponed
A letter from Friends of Alzey Vice-Chair to members:
Dear all,
It is with great regret that I am writing to tell you that it has sadly been decided that we have no choice but to postpone the upcoming visit of our friends from Alzey.
The current time of uncertainty means that we cannot be sure that travelling, visiting each other's houses, going on trips and having group meals will be allowed at the start of July. We also have a number of people on both sides with underlying health issues to consider.
Both your committee and the committee in Alzey feel that postponing the visit is the only sensible option in these times of uncertainty. We will be working on a time to invite our friends over next year when, all being well, we are back to more normal times.
I trust that you understand and hopefully agree with our decision.
We trust you are all well and looking forward to meeting again in happier times.
Kind regards
Hayley - 28th March 2020
Friends of Alzey Visit to German Twin Town September 2019
Twenty-five of us travelled to Alzey for another very successful visit. It was timed to coincide with Alzey Vintners' festival (Winzerfest). Once again, the Friends of Harpenden in Alzey organised an excellent programme which included a welcoming reception by Mayor Christoph Burkhard followed by a tour of the impressive new fire station.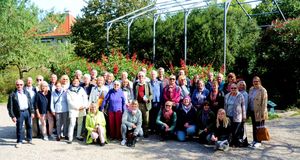 On the Friday we enjoyed a guided tour of the Schau- und Sichtungsgarten Hermannshoff, where the photo below was taken, followed by some free time to enjoy the town of Weinheim an der Bergstraße. Later in the day we attended the opening of the Winzerfest in Alzey. There was a free day on Saturday to enjoy with our hosts. On Sunday, many of us went again to the Winzerfest and in the evening we enjoyed a farewell dinner at the delightful Stöckbauers Weinkastell. See the Photos page for more pictures.
Friends of Alzey host a visit from German Twin Town, June/July 2018
18 Friends of Harpenden journeyed here from Alzey recently for an especially sun-drenched high summer weekend of friendship and discovery. They were welcomed by the Deputy Town Mayor at a small reception at Harpenden Town Hall on Thursday June 28th.
The following day they went by coach with their hosts for a conducted tour of Highgate Cemetery then visiting Hampstead Heath and Kenwood House. London's modern skyline, clearly on view from the Heath, made both an excellent backdrop to the 2018 group photo and a striking contrast to the Victorian architecture on view at the Cemetery. On the Saturday many hosts took their guests into central London, whilst others, with the mercury rising to nearly 30 degrees, opted to stay closer to home.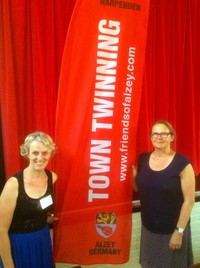 The continued hot weather deterred few participants from enjoying a Sunday morning walking tour of historic Harpenden courtesy of our President, Rosemary Ross, of the Local History Society. That evening all guests, hosts and several other Friends of Alzey gathered at Marford Hall, Wheathampstead, for the 'best of British' - Pimms, fish and chips, homemade trifle followed by two games of Bingo!
Chairs Gabriele Müller Gebhardt and Susan Vinther reaffirmed their organisations' commitment to this long friendship between Alzey and Harpenden. The visitors departed on Monday July 2nd delighted with their Harpenden weekend. Plans are already being made for the return visit to Alzey in 2019. See the Photos page for more pictures of this splendid weekend.
Friends Of Alzey Visit German Twin Town, August 2017
30 members of the Friends of Alzey once again received a very warm welcome in Germany for their long weekend visit in early August. They were met by Alzey's Mayor at a Reception with local wine and brezels, and were treated to a full day's group outing the next day.
The Harpenden visitors enjoyed a tour of a former Royal summer residence, free time in the delightful town of Neustadt and a wine-tasting in a family owned winery in Kallstadt.
They learned that Donald Trump's father spent his early years in Kallstadt, so for a small place it is receiving a large amount of attention.
The weekend continued with time with host families, an optional visit to a local street festival and a farewell dinner. The new Chair of the Friends of Alzey , Susan Vinther, was accompanied by her teenage daughter, one of four teenagers to enjoy German hospitality during another successful visit.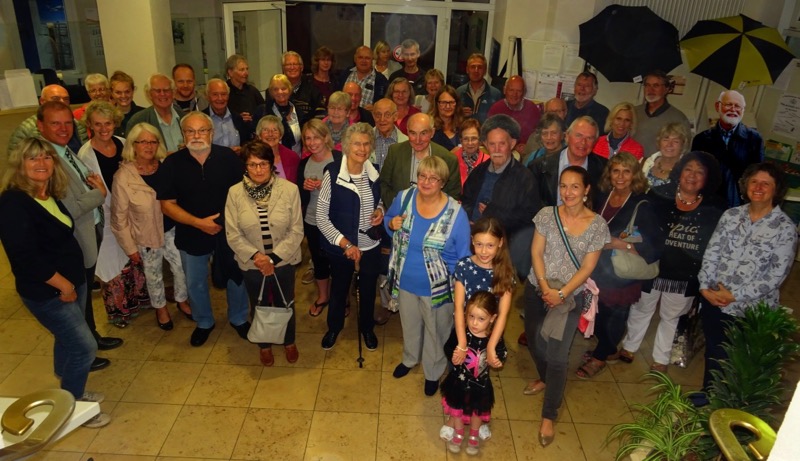 Welcome reception in the Alzey Rathaus.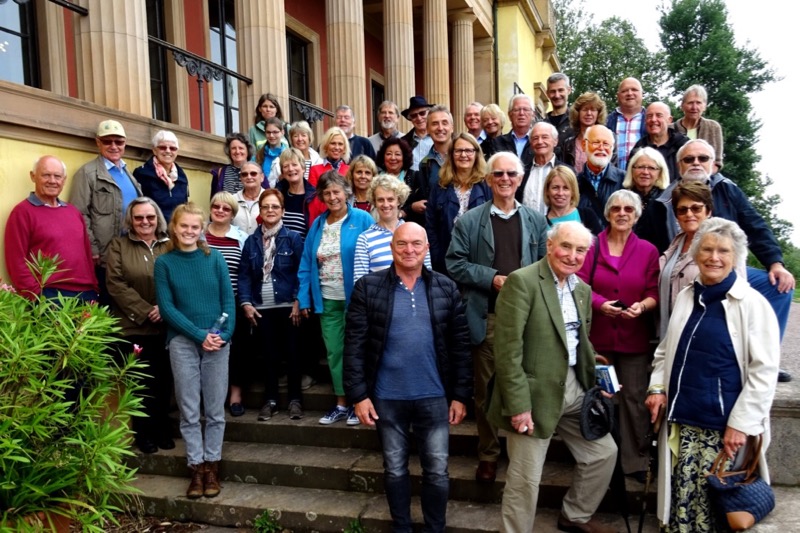 Group visit Villa Ludwigshöhe
Friends Of Alzey Host Visit From German Twin Town, July 2016
20 JULY - Harpenden's Friends of Alzey played host to 32 of their German counterparts last weekend.
The German visitors came to Harpenden for a long weekend of activities that included a visit to Hatfield House, excursions with their host families and a walk on the Dunstable Downs. The visit began with a reception hosted by Town Mayor Nicola Linacre at Park Hall. The Mayor of Alzey, Christoph Burkhard, took part in the visit with his family. Alzey's wine queen, Marie-Charlott Stoehr also participated in the visit. The visit concluded with a hog roast dinner at Park Hall with musical entertainment provided by the Kings of Herts, Harpenden's barbershop chorus. 'This was another very successful visit', said John Lough, Chairman of the Friends of Alzey. 'Not surprisingly, there was a lot of discussion of Brexit and a strong view on both sides that people contacts are particularly important at this time of change in Europe.' Plans are already in progress for the visit to Alzey next year.
The Group at Hatfield House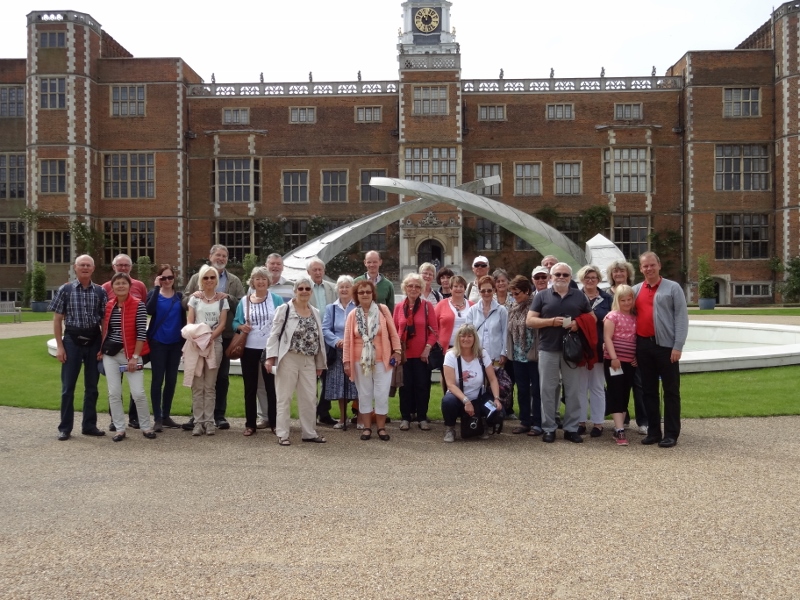 Friends Of Alzey Visit German Twin Town, September 2015
12 SEPTEMBER - 25 members of Harpenden's Friends of Alzey travelled to the German twin town last week for a long weekend. Their German hosts arranged a tour of the historic town of Koblenz, including a cable car ride over the Rhine where it meets with the Mosel. Wine was a recurrent theme of the weekend. Together with host families, the visitors from Harpenden took part in a wine tasting in a family-owned winery. They also participated in a major event in Alzey life, the annual walk through the local vineyards, known as the Wingertshaeuschenwanderung, with the possibility to stop and enjoy wine and food at many stops along the way. John Lough, Chairman of the Friends of Alzey said the atmosphere of the visit had been particularly special. 'It was striking to see so local people of all ages involved in Sunday's walk. There was a real sense of the town coming together. There is a close-knit community in Alzey and we were delighted to be made to feel so welcome.'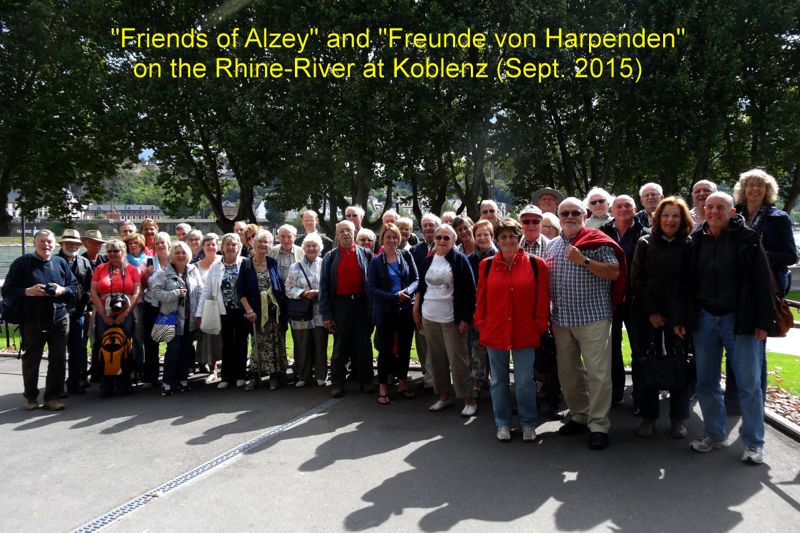 The Group in Alzey
Friends Of Alzey Host Visit From German Twin Town, August 2014
The latest visit from our German twin town Alzey took place from 28th August - 1st September 2014. A press release was sent to local media to inform the wider community about the latest successful visit and the strong personal links between our two towns.
The Group in Harpenden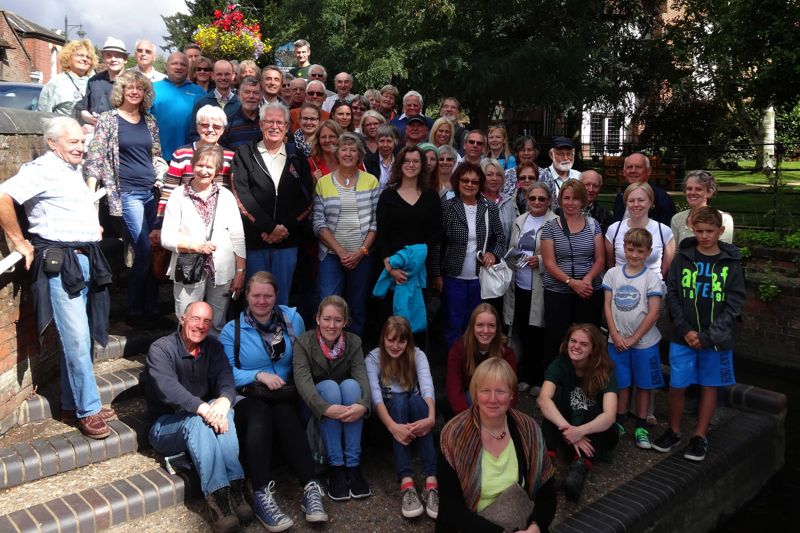 2013: Alzey Marks 50th Anniversary of Town Twinning in style
HARPENDEN - 36 members of Harpenden's Friends of Alzey travelled to the German twin town for a weekend of celebrations to mark the 50th anniversary of the twinning of Harpenden and Alzey. Alzey's Town Council organised a series of events to celebrate 50 years of twinning with Harpenden and 40 years of twinning with its French counterpart, Josselin, a town in southern Brittany. Town Mayor Rosemary Farmer travelled with the Friends of Alzey to join in the celebrations. The weekend included discussions of the challenge of climate change and visits to a wind farm outside Alzey and a solar power facility as well as a formal dinner with musical and film entertainment. There was also the chance to visit a winery that specialises in organic production of wines. The Mayor of Alzey, Christoph Burkhard, presented the Friends of Alzey with a medal in honour of their contribution to relations between the two towns. As usual, the Friends of Alzey stayed with host families and had the chance to renew friendships and, in some cases, establish new ones. With a population of 18,500 Alzey is located in the heart of the wine-growing region of Rheinhessen. It is an important regional centre that was once settled by the Romans. Chairman of the Friends of Alzey praised the efforts of the German organisers. We had a fantastic time. It was a privilege to be part of these celebrations that were a reminder of the strong relations with Alzey that have been built up over the years.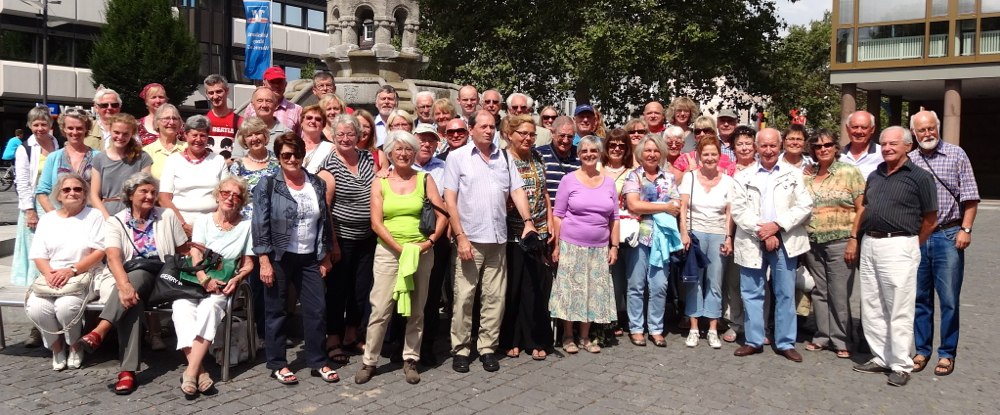 The Group in Alzey
Exchange Visit: July 2011
VISIT FROM HARPENDEN'S GERMAN TWIN TOWN July 11 2011 - Harpenden hosted 29 visitors from Alzey, its German twin town at the weekend. The visit organised by the Friends of Aley included Mayor of Alzey Christoph Burkhard who was making his first visit to Harpenden. The three-day visit featured a tour of the Olympic site, participation in Sunday's Highland Gathering at the invitation of the Lions Club as well as time with hosts. Chairman of the Friends of Alzey, John Lough, said: 'The visit showed again the very strong personal links between Harpenden and Alzey. We were particularly pleased that the Mayor could be involved and see what we do.' The Friends of Alzey will make their next visit to Germany in 2013 to coincide with the 50th anniversary of the twinning between the two towns.
Programme of Events for Visit
| Day | Date | Event | Time |
| --- | --- | --- | --- |
| Thursday | 07.07.2011 | Arrival of German Guests | evening |
| Friday | 08.07.2011 | Visit to the Olympic Site and Tour of East London | all day |
| Saturday | 09.07.2011 | Free Day | all day |
| Sunday | 10.07.2011 | Civic Reception and visit of the Highland Gathering | 12.00 |
| Sunday | 11.07.2011 | Three-course Dinner at Aldwickbury Golf Club | 19.00 |
| Monday | 11.07.2011 | Departure of German Guests | morning |
Exchange Visit: August 2010
In keeping with the successful bi-annual exchange visits the Friends of Alzey travelled to Alzey in Germany in August 2010. Please check out the article published by the newspaper Review summarising this trip to Germany.
The Group visiting Trier

Exchange Visit: August 2009
34 guests from Alzey visited Harpenden from August 6th to the 10th 2009 in the 2009 exchange between the Friends of Alzey and the Friends of Harpenden.
The Committee of the Friends of Alzey arranged the programme that included a visit to Cambridge and Ely, coffee and a tour of Luton Hoo and a Hog Roast at Redbourn Recreation Centre.
In contrast to the previous visit from Alzey in 2007, our German guests enjoyed some fine English summer weather.
John Lough, Chairman of the Friends of Alzey, called the visit a "terrific success". "It is great to see the continuing enthusiasm for these contacts in our two communities", he said.